.
Susanna's client list speaks directly to her level of International success. For many years she has specialized in life-size animal sculptures in bronze. Her monumental sculptures have appeared on 13 of the Holland America Line fleet, and have been commissioned and collected by heads of state in the Arab Emirates. Her glass murals, measuring 10-25 feet in length, have been installed on 4 of the Carnival Cruise Line fleet.
An Honorary Member of the Royal British Society of Sculptors, Susanna has forged an independent course in her career.
Susanna has worked on both sides of the camera. She is the subject of a feature-documentary filmed by two National Geographic filmmakers who captured the length to which she goes in researching and creating her life-size animal sculptures. Susanna both directed, edited, scripted and narrated the production called '3 BEARS'. The movie follows the creative journey of a monumental sculpture to be placed on the cruise ship MS Amsterdam. She is a speaker, and a writer. Susanna is passionate about the survival of our animal world, and concern for the environment, and her work is a reflection of this love for nature. Although born and raised in England, Susanna now works from her studio in the high desert mountains of Sedona, Arizona, where wildlife abounds.
.
Artist's Statement – What really matters!
.
When did we first smile at the face of a furry creature, or long to stroke the smiley face of a dolphin – for most of us it was at age about 3 months, and it might well have been a four legged friend who adopted us during babyhood. For nearly all of us, that love, while buried beneath our frenetic daily lives, still lingers, sometimes strongly, in our continued fascination with all creatures great and small [spiders aside]
If playing with clay was to be one of my first preoccupations, animals were equally enthralling, so putting the two together was a given. Maybe that is why I make Animalia sculpture – Specializing in life-size animals.
.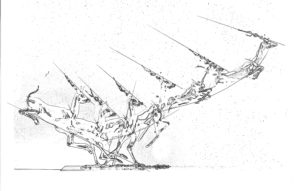 I try not to copy nature, instead I find the hidden geometry in the movement.

 I interpret this into phases that create movement. Then emphasize those angles and muscles that create speed and lift, even if you cannot detect it.
`
This is what makes my work unique!
`
Years galore of anatomical study undoubtedly helped simplify, fine tune my craft, but it is when I digress from a copy of the animal, that magic happens, and the sculpture actually appears to move.
.


.