COMMISSION – Animalia Sculpture
If you feel that my sculpture would enhance your location, and you are wondering how much the investment would cost, what animal would best suit the location, and how this is achieved, here is a breakdown that may help.
Firstly, it is best we speak one on one together? We can talk about your needs, and what the space requires. There  are many options regarding size and cost.
.
Animals come in all shapes and sizes!
There is no restriction as to the mood that we can induce through this subject matter. The secret is to see the space, and choose a spot where the sculpture can be seen and enjoyed from as many angles as possible, not hugging a wall or staircase. There is something pleasing about walking around a statue instead of a straight path across a room. The statue will seemingly enlarge the space and lend dimension and dynamism to the location.
.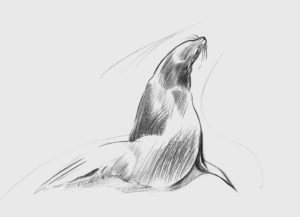 .
So what will it cost? 
.
For a life-size animalia sculpture in bronze, this varies from approximately $1000 dollars for a small sculpture to several hundred thousand dollars for the larger ones – Each sculpture requires different methods of creation. The cost is not necessarily predicated on how big the piece may be, but on the individual complexity or simplicity of creating that statue. A life-size '

baby sea lion

' is quite small, about four feet in length, and can be made directly in clay, so this is relatively inexpensive, (see Small sculptures for sale) but once cast into bronze, if placed on a beautiful marble base, or natural rock, and perhaps above a water feature in a lobby, imagine how dramatic the effect. However, a subject that follows multiple stages of motion such as the 'leaping dolphin' requires making the quarter life-size first, and then enlarging this in styrofoam and plaster to the life-size.
.
However simple or complex the initial creation, both will require research, then the initial model, the rubber mold, wax production, investment mold, and bronze casting. These stages cannot be shortened by pressure of time. So pre-planning is wise.
.